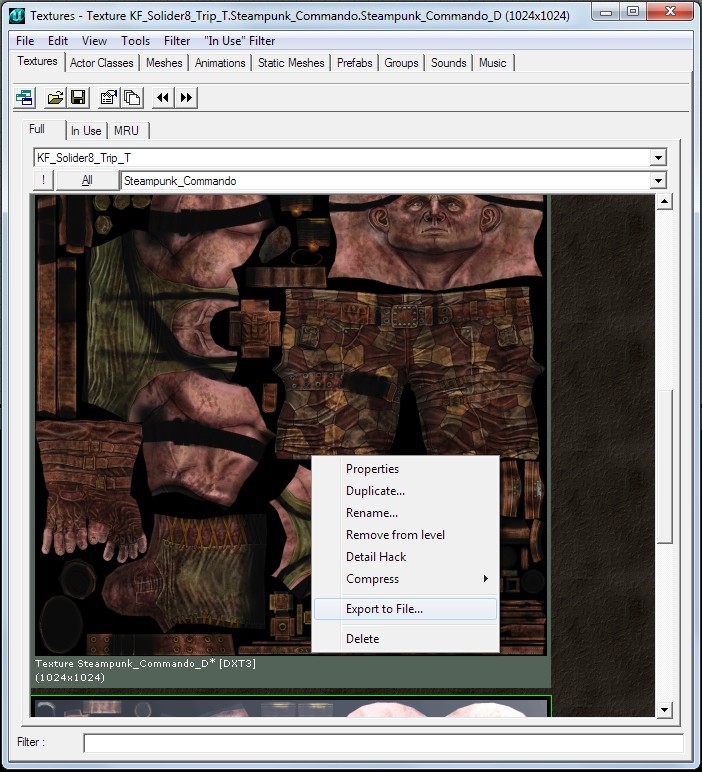 This is my skinning tutorial. Before start, make sure you have:
Killing floor SDK
DXTBmp
Editor (photoshop, paint.net, gimp)
Step 1. Launch SDK and choose skin you want to edit. After that, export DDS file to your hard drive.
Step 2. Now you have a dds file on your hard drive. Launch DXTBmp and open dds file. After that, you should select editor and send to editor (this function will launch your editor and import DDS texture into it).
Step 3. Edit your texture. After that, you must save your texture as .dds file with same name (for example, "Steampunk_Commando_D.dds").
Step 4. Launch SDK, open your skin (from first step), and press import (import edited dds file from hard drive). Check "Alpha" and press ok.
Step 5. Now you have to save your .utx file. You must use different name.
Final step. Go to Steam\steamapps\common\killingfloor\System folder. Find a upl file with name of your skin (for example, "Steampunk_Commando"). Open this file with txt editor and find "BodySkin". Copy name of the texture you edited after "BodySkin=" and save file (last screenshot). Thats all, go to game.
If you have a "shiny skin" in game, go to step 4, select first file (_CMB), right click and select properties, locate the CombineOperation. Click and select CO_Use_Color_From_Material1. Close that window and save edited file.